Glassense
We provide complete glass solutions for buildings (facades, windows, interiors), energy-efficient glass units and service excellence. Our mission is to help make buildings more energy-efficient.
Over 94% adoption among employees
Unified communication in existing and merged production facilities (3x growth in employee count)
Digitalised employee feeback for H&S and technical incident reporting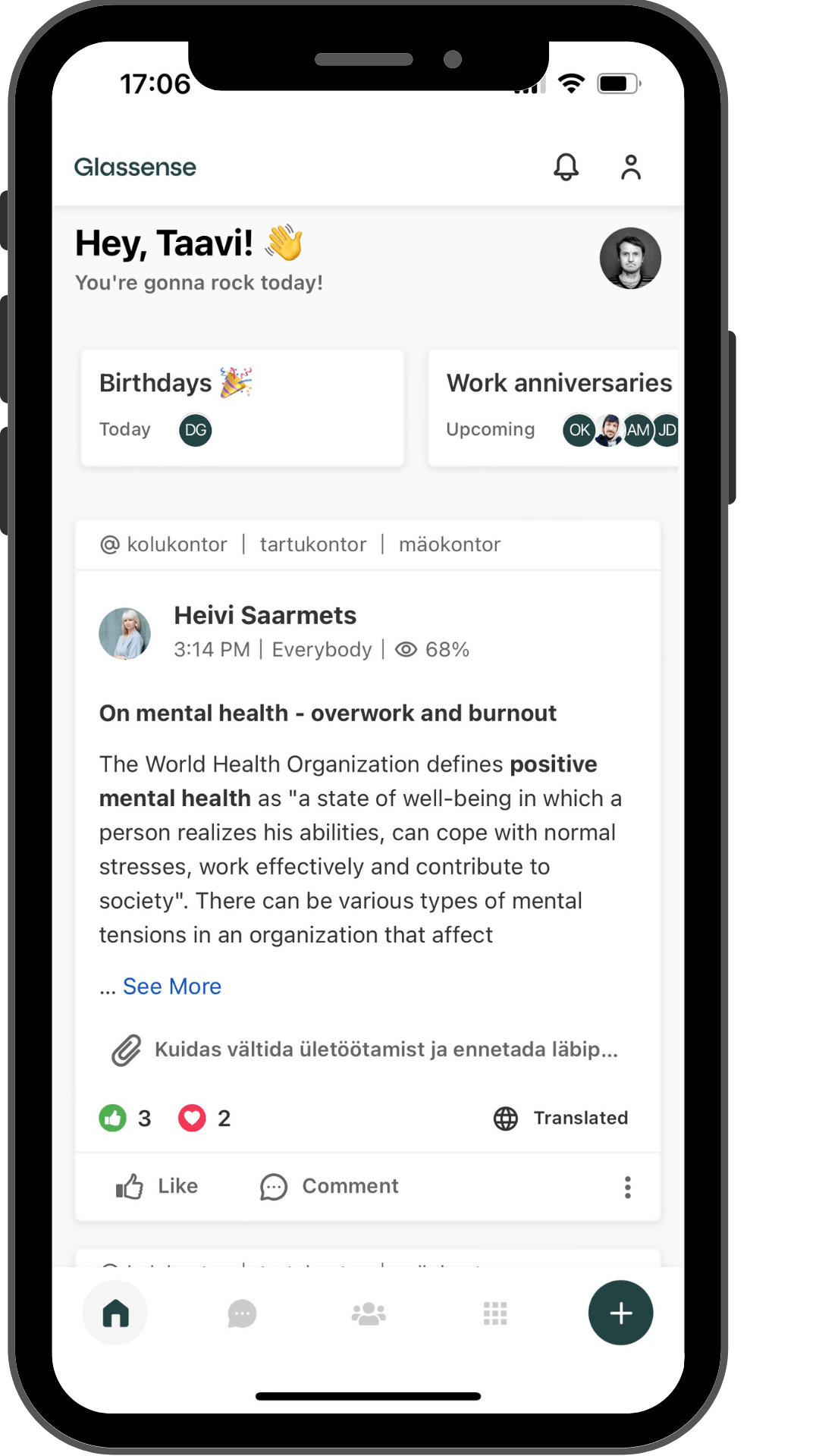 Challenge
Ongoing merger process with a company twice the size, a tool was needed for strategic, operational and culture alignment.
With employees dispersed across various factories in different locations and countries, their primary goal was to identify a communication channel that could reassure the workforce of one central platform where they were always united.
Given the presence of four spoken languages within the company, the focus was on maintaining inclusivity and ensuring everyone stayed well-informed.
Solution
GuavaHR's Internal Communication Platform with Auto-Translate Functionality has been introduced to all employees at Glassense. With an impressive 94% adoption rate, every employee now has access to crucial information, instantly translatable to their preferred language.
The Forms module has empowered the company to digitize employee feedback and enhance the listening process. Now, everyone can swiftly report health and safety (H&S) or technical issues from their location, leading to quicker resolutions—allowing for anonymous reporting, if necessary.
"The previous clumsy communication flow is in the past. The information we share in Guava travels fast and equally to everyone: whether it is critical or is something that strengthens the company's culture.
We can be sure that employees are aware of what is happening in the company, we see the daily usage statistics: our people read news, respond to company questions and inquiries."
Heivi Saarmets
Glassense CHRO & ESG
GuavaHR IC & Forms solution is embedded into company processes. New employees are guided into the system, helping them to get into the flow smoothly.
Initial concerns about employees using their phones too much have dissipated. As the HR Manager put it, "The benefits are simply immense."
To ensure that everyone is well-informed about the company's current status and future direction, Glassense is delivering monthly updates from the CEO and weekly updates from their plant managers. Additionally, they provide real-time information on operational necessities. 
Furthermore, the company also shares updates on its most significant and successfully completed projects. This approach allows all employees to comprehend the tangible impact of these projects on their work, fostering a sense of pride in their colleagues and the company itself. It serves as a source of assurance that the company is making meaningful progress.
Recognizing that Glassense's most valuable asset is its people, the company has initiated the practice of introducing new employees as part of its onboarding processes. This intentional effort aims to facilitate a seamless and comfortable integration for newcomers, enabling them to quickly become part of the cohesive team.
Guava's targeting tags enable efficient and low-noise communication. Information is delivered only to the individuals it pertains to, reducing unnecessary noise and ensuring effective communication.
Glassense has made it easy for employees to access essential links and documents in our Document section. Even when on the go, all employees can quickly find the templates they need, right from their mobile devices.
The company has digitized health and safety, along with technical incident, reporting. QR codes throughout our production facilities ensure quick access to the right forms, and they support anonymous feedback for open communication and maximum participation.